BAC Three Star 2022
North Point ESC and its Business Advisory Council was honored to receive Ohio's 2022 Three-Star Business Advisory Council award presented by Lt. Governor Jon Husted and Interim State Superintendent of Public Instruction Stephanie Siddens.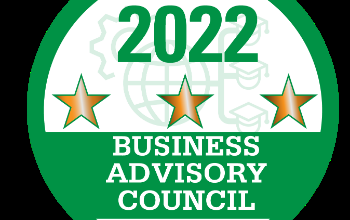 The Ohio Department of Education, in partnership with the Ohio Business Roundtable, Ohio Chamber of Commerce, Ohio chapter of the National Federation of Independent Business, Ohio Farm Bureau, Ohio Manufacturers' Association, Ohio Excels, Ohio Restaurant Association, and Ohio Council of Retail Merchants, developed Ohio's Business-Education Leader Awards for Excellent Business Advisory Councils. This application-based set of awards recognizes applicants that demonstrate excellence in the three Quality Practices:
Excellence in developing professional skills for future careers;

Excellence in building partnerships; and

Excellence in coordinating career development experiences.
To learn more about the work of Business Advisory Councils, to watch a video of the event, and view the criteria for these awards, visit the state's Business Advisory Councils webpage.