...Seventh Successive Title.
Sandusky, Ohio. February 21, 2019 – It was not easy, but Edison High School won the Firelands Challenge championship in front of its home crowd on Thursday morning. Huron High School won its second match of the Championship Round, but Edison had more cumulative points to retain the championship plaque. Huron finished in second place and Perkins High School took third place.
This is the seventh straight Firelands Challenge championship for Edison. The string of victories goes back to the 2012-13 season when it tied with Norwalk for first place. Huron finished in second place last year as well as the 2015-16 season and in third for the 2012-13 season. Perkins finished in second in the 2016-17 season.
After all three teams appealed answers given in the second championship match, the cumulative scores going into the final match were: Edison 83, Huron 74, and Perkins 68.
Huron led by as many as 12 points in Thursday's match, but Edison tied the match up going into the final set of lightning questions. Huron outscored Edison 5 to 1 in the final segment to win the match by four points, 52 to 48. Perkins finished with 23 points.
The key to Edison's success this year was that its scores were more consistent across the three Championship Round matches. Perkins won the first match while Huron struggled. Huron won the second and third matches while Perkins struggled. Edison came in second in all three matches, but maintained sufficiently high scores to stay in contention and eventually win the overall championship.
The results of the three Championship Matches and the cumulative scores are:
Match I Match II Match III Cumulative
Edison 46 37 48 131
Huron 27 47 52 126
Perkins 49 19 23 91
William Muthig, program coordinator, stated that, "All three teams deserve recognition for their efforts in these matches. Edison's seventh straight title is something that has never been done before and will be a benchmark for years to come."
read more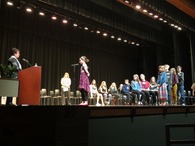 ...a step on the way to Scripps National Bee in Washington D.C
The Port Clinton Performing Arts stage was filled with excitement last night, Tuesday, February 5 as 30 students from grade 5-8, representing 10 school buildings, 6 school districts, and 2 parochial schools joined in the 25th Annual Ottawa County Spelling Bee which is sponsored by the North Point Educational Service Center. Following the procedures, rules and word lists from the national Scripps contest the students listened to Mrs. Jeanne Lawrence, the pronouncer, state a word which they then had to spell correctly. The Bee continued for 27 rounds as students came to the microphone, heard the word, spelled the word correctly, and returned to their seats. With the final two students going back and forth the end did not seem near until finally one misspoke and a champion was determined by spelling one more word correctly!
The final four students who earned the right to represent Ottawa Co and their schools in the next level Bee, the Northwest Ohio Blade championship Bee at the Owens State Community College in March are as follows:
Champion - Bryce James, 7th grade - Port Clinton Middle School
Runner -up - Zoey Bauder, 5th grade - Woodmore Elementary School
Third Place - Madison Wolf, 8th grade - JC Roberts (Genoa)
Fourth Place - Phoebe Lenke, 7th grade - Oak Harbor Middle School
All of the students had earned the right to come to the Ottawa County Bee by being a champion in their own school so they had prepared overtime for this opportunity, and were winners in their own right. Congratulations
A special thank you to the Port Clinton Women's Club for supporting and working this event as well as the Port Clinton City Schools for allowing the use of their facilities.
If you have never attended a Spelling Bee, you are invited to come next year, and see what these students know!
read more
Current Highlights
Ohio Department of Education NPESC Business Advisory Council NPESC Shared Costs PaySchools HESE Insurance read more