---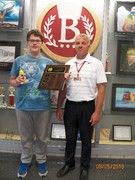 Champion Maddox Good from Bellevue Middle School
---
Huron County Spelling Bee
Fifty-seven students took the stage at the Ernsthausen Performing Arts Center Monday evening to compete in the Huron County Spelling Bee. These students who were from grades 4 through 8, represented all the school districts in Huron County. They had earned the right to be in this level of competition by winning a spelling bee in their specific grade or school.

While this County level competition follows the expectations , guidelines and word list of the Scripps National program, it remains a local activity which climaxes with certificates for all and trophies for the top four finishers. The Champion Speller also receives a name on the traveling wall plaque which graces his school for the following year.
This year it took nine rounds for Maddox Good from Bellevue middle School to be crowned the champion. He outlasted Mason Miller, also from Bellevue Middle School who was runner up, Riley Morrison from Trinity Christian, second runner up and Bryce Bingle from Norwalk Mainstreet, third runner up. A very supportive audience of family members, school personnel and well wishers applauded and took pictures to remember the event.
This year's Reader/Moderator was Mrs. Jeanne Lawrence, Judges were Tammy Robinson and Mary Wanaget of the North Point ESC, and Mollie Wetherill was the facility coordinator.
Linda Stauffer, Special Projects Supervisor, and Deb Graber of the Norwalk North Point ESC Office coordinated the event.